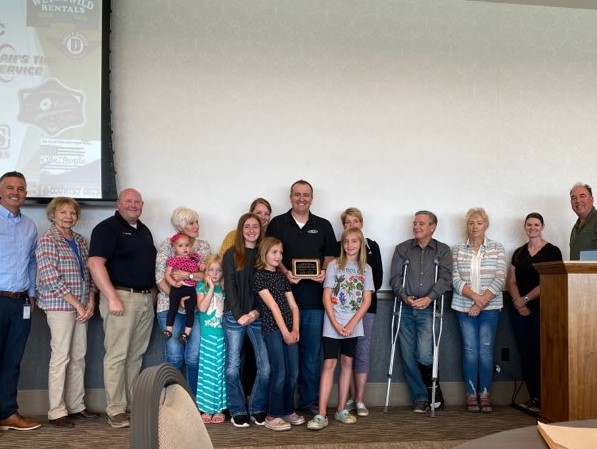 Carson's involvement with Vernal's Dinosaur Roundup Rodeo began as a 6-year-old in the Mutton Busting and continued as a teenager by assisting the judges during the rough stock events and barrel racing. Carson joined the rodeo committee and board of directors in 2016 as the Treasurer and continues to serve in this role, in addition to serving as Vice President.
Carson is a nearly life-long resident of Uintah County and a graduate of Uintah High School. While in High school, he competed as a bull rider in Utah High School Rodeo and was the Mathematics Sterling Scholar. Carson attended Utah State University in Logan, Utah, and competed on USU's college rodeo team for one year. After serving a mission for the Church of Jesus Christ of Latter-day Saints in Salvador, Brazil, Carson's bull riding career was cut short after breaking a vertebra in his back two weeks after returning home.
Shortly after Carson's bull riding injury, Carson met his beautiful wife, Malynne Chamberlain, and they have been married for over 13 years. They are the parents of six beautiful daughters, and a baby boy will be joining the family in October.
Carson returned to USU and earned a bachelor's and master's degree in accounting. While at Utah State, Carson served as a Quigley Ambassador to promote the School of Accountancy, and as the Vice President of Beta Alpha Psi, an international honor society for accounting students. During this time, he participated in various service projects, including the volunteer income tax assistance program.
Immediately after obtaining his master's degree, he began working for KPMG, a large international accounting firm in Salt Lake City. Carson and his family returned to Vernal 10 years ago this month to work for a local accounting firm where he became licensed as a Certified Public Accountant. Carson has been part of the BHI team since 2015 and currently works as the Director of Corporate Finance.
Carson is very active in the community, through the rodeo committee, church, and other organizations. The rodeo committee supports Uintah County Search and Rescue, the Basin Junior Rodeo Association, Trees for Charity, Holly Days, Dinosaurland Freedom Festival, and many other charities. Also, he has served multiple times as a county and state delegate in the political process.
The Public Relations Committee of the Vernal Area Chamber of Commerce would like to present Carson Young with the Quarterly Outstanding Public Service award for his many contributions to our community and particularly for his involvement in the success of the Dinosaur Roundup Rodeo.