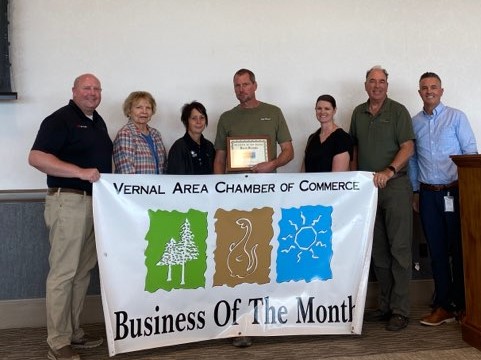 Larry Peterson purchased Basin Rentals in 1984 from Norman Kitchen. It was located on Hwy 40 where Fossil RV is now. His son Craig Peterson started working with his dad Larry when he was 18 years old. They moved to a new location where Basin Appliance is located and was there until the late 80s when they moved to the location they are now on North Vernal Ave. In 2000 Craig and Cary purchased the business from their dad giving him the opportunity to retire. Since purchasing the business Cary's son has also joined the team making 3 generations of Peterson's. They have also added 3 more employees.
Basin Rentals is proud to support the community and participate in many improvement projects such as donating equipment to paint the helicopter on Main Street, supplying equipment to the High School for football games, sponsoring many kids in sports, and Sub for Santa projects.
Basin Rentals has a large selection of Skid Steers, Excavators, Man Lifts, Forklifts, and most equipment for home projects. They service homeowners, contractors, and oil fields always striving to give the best customer service and support.
The Public Relations Committee of the Vernal Area Chamber of Commerce is pleased to present Business of the Month to Basin Rentals for long their Gevity and continued support of our community.