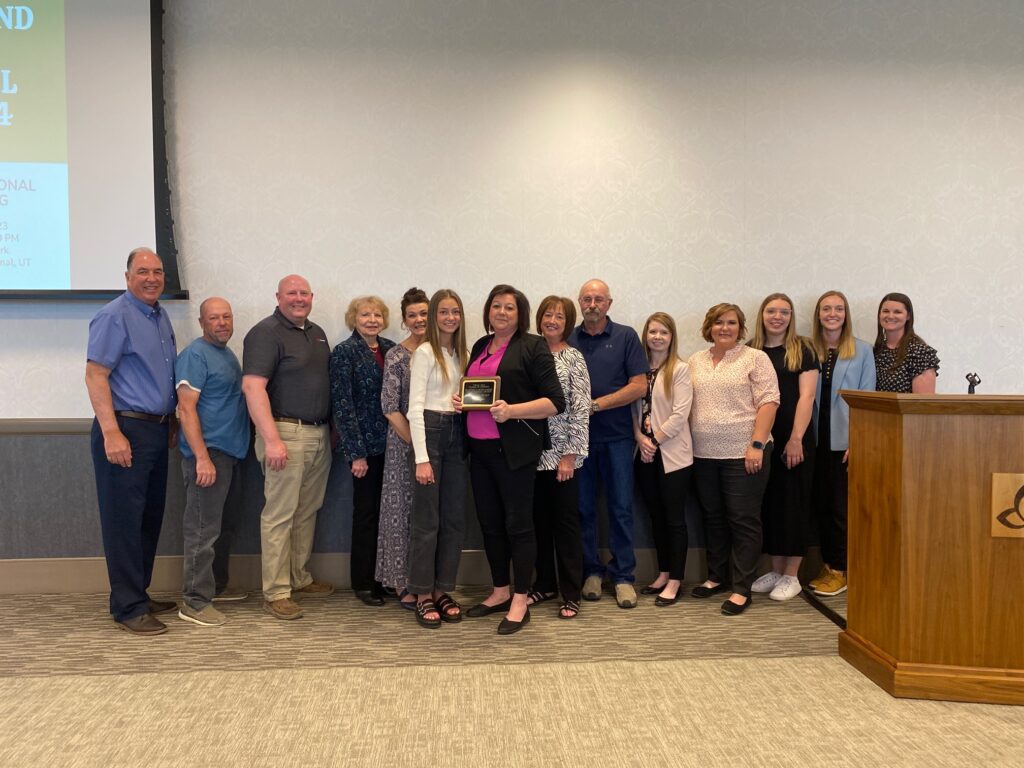 Lesha Coltharp is the Director of Tourism for Uintah County. Telling people about Dinosaurland and all the awesome things to see and do in the Vernal area is her passion! Lesha earned a Bachelor of Science Degree from Utah State University in Business Information Systems and Marketing. She was born and raised in Uintah County and has worked in the hospitality industry since the age of 12. She loves tourism and marketing! This job combines both of those as well as event management and truly is a dream job! She wakes up every day excited to promote the Vernal area and help grow the economy in the Uintah Basin.
Lesha serves on many local and state-wide boards to help grow the tourism economy in Uintah County and the State of Utah: Utah Tourism Industry Association, Utah State Parks Board, the Utah Office of Tourism Board of Directors, Downtown Revitalization committee, Chair of the Uintah High Grad Night Committee and Uintah High School Community Council, Hotel Vernal Haunt, Uintah County Fair and several local event committees.
Lesha is responsible for the Utah Coop Marketing grant for Uintah County Tourism that brings in over $175,000 each year to help market Uintah County to out of state tourists. Lesha also works on grants for the Utah Outdoor Recreation grant that helps improve recreation infrastructure in the area with projects totaling over a million dollars to date. Lesha also manages the Utah Welcome Center in Jensen, co manages Buckskin Hills Recreation Complex, and has the BEST staff ever in the Uintah County Tourism Office. Without Bridget, Mike, Madi and all the interns over the years, none of the accomplishments would be possible.
Visit Dinosaurland, The Origin of Adventure with Vern & Al, and the This is Vernal brand have both been created under the direction of Lesha. Dinah SOAR Days, Dinosaurland Passport to Summer, Red Fleet Paddlefest, Uintah County Summer Day Trips, JWP River Festival, Outlaw ATV Jamboree and other local events and festivals have been created by or under the leadership of Lesha.
Many of the events, committees and time spent serving in the community are volunteer hours that Lesha and her family enjoy serving to help make our community a great place to live, work and play! It's a team effort and all hands-on deck most of the time. Lesha says that this award is not only for her, but also for husband and kids. Over the last 15 years they have given up holiday's, weekends, birthdays and free time to serve along side her. They are proud to be from Uintah County and grateful for the opportunity to serve and live in such a beautiful and giving community.
The Public Relations Committee of the Vernal Area Chamber of Commerce is pleased to present the Quarterly Outstanding Public Service Award to Lesha Coltharp for the many and varied contributions she has made to our community.